Star System: Nova Sol
Name: Senatus Populesque Romanus
Date: This the 18th Day of the Ides, In the Year of the Consuls Titus Galenus Aratus and Lucius Antonius Tiberinus, 2757 Ab Urbe Condita A.U.C.
Head of State: Primus Princeps (First Citizen) Casca Rufius Longinus
National Flag: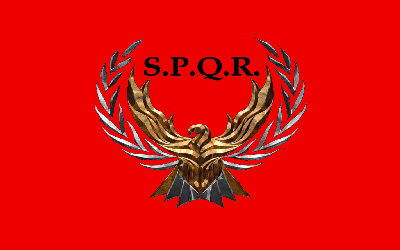 LEGENDARY BACKGROUND
In the Legends of Novae Roma, that are lost in the misty haze of time, it is said that Iuppiter and Mars had forseen the time when Roma Mater would be overcome by the barbarians. Iuppiter despaired of ever seeing his children out among the stars. So he along with Mars began to weave the ether and created Novae Roma, an exact replica of Sol, and deposited there Romans whom he deemed worthy to carry on the name Roman.
These humans had to display all the virtues of a true Roman and these virtues were: Officium (Duty), Aequitas (Respect), Gravitas (Dignity), Nobilitas (Nobility), Concordia (Harmony), Humanitas (Culture), Pietas (piety), Virtus (Courage), Firmitas (Tenacity), Industria (Hard Work).
These Romans had more in common with Seneca and Cicero than with Commodous and Nero. As Iuppiter had forseen only true Romans would prosper and eventually make it to the stars. But what is a Roman without conflict? So Mars placed on Novae Roma, humans from other cultures that he deemed worthy to fight the Imperium for the fate of the new world Iuppiter and he had created. If these Romans were not worthy, then none would be. It would be an interesting fight either way.
In the Year 2657 A.U.C. Ab Urbe Condita, the Romans had shown they were worthy of Iuppiter and Mars. For they had finally conquered the Orbis Sericum (Chinese Sphere) and united Novae Roma under the Pax Romana.
ORGANISED PROVINCAE
Principatus Europa:
+Difficult,- Provincae Italia: pop: 22 million, ind: 10, wealth: 20, research:0, energy:10
+Open- Provincae Gallia: pop: 22 million, ind: 5, wealth: 5, research:0, energy: 5
+difficult- Provincae Hispania: pop: 22 million, ind: 0, wealth: 15, research: 0, energy: 20
+Intervening- Mare Germanicus
+Open- Provincae Brittania: pop: 20 million, ind: 5, wealth: 5, research: 0, energy:0
+Very Difficult- Provincae Scandia: pop: 10 million, 0 ind, 0 wealth, research: 0, energy: 0
+Open- Provincae Germania: pop: 22 million, ind: 5, wealth: 0, research: 0, energy, 0
+Open- Provincae Gothica: pop 21 million, ind: 0, wealth: 0, research: 0, energy: 0
+Open- Provincae Illyricum: pop 20 million, ind: 0, wealth: 0, research: 0, energy: 0
+Difficult- Provincae Moesia: 20 million, ind 0, wealth, 0, research: 0, energy, 0
Intervening Terrain: Mare Nostrum
Principatus Africa:
+Open- Provincae Mauretania: pop 22 million, ind: 0, wealth: 0, research: 0, energy: 0
+Open- Provincae Africa Proconsularis: pop: 10 million, ind: 0, wealth: 0, research: 0, energy: 10
+Open- Provincae Aegyptus: pop: 10 million, ind: 0, wealth: 0, research: 10, energy: 10
Principatus Asia:
+Open- Provincae Asia: pop 10 million, ind: 0, wealth: 0, research: 0, energy: 0
+Open- Provincae Galatia: pop 22 million, ind: 0, wealth: 0, research: 0, energy: 0
+Open- Provincae Cappadocia: pop: 22 million, ind: 0, wealth: 0, research: 0, energy: 0
Intervening Terrain: Central Asia
Principatus Serica:
Open- Provincae Manchuria: pop 22 million, ind: 0, wealth: 0, research: 0, energy: 0
+Open- Provincae Hanii: pop 42 million, ind: 10, wealth: 5, research: 5, energy: 5
+Open- Provincae Wei Hei Wei: pop 22 million, ind: 0, wealth: 0, research: 0, energy: 0
+Difficult- Provincae Koreanius: pop 10 million, ind: 0, wealth: 0, research: 0, energy: 0
+Intervening Terrain: Mare Sericum (1SP)
+Open - Provincae Nihonii: pop: 32 million, ind: 0, wealth: 0 research: 0 energy: 0
Intervening Terrain: Oceanus Pacificum
Principatus Mericus Septentrionalis
+Open- Provincae Mediatlantica: pop 10 million, ind: 0, wealth: 0, research: 0, energy: 0
+Open- Provincae Austrorientalis: pop 10 million, ind: 0, wealth: 0, research: 0, energy: 0
+Open- Provincae Austroccidentalis: pop 10 million, ind: 0, wealth: 0, research: 0, energy: 0
Principatus Nova Hispania
+Open- Provincae Mexicus: pop: 42 million, ind: 5, wealth: 0, research: 0 energy: 15
Principatus Mericus Australis
+Very Difficult- Provincae Tupus: pop 11 million, ind: 0, wealth: 0, research: 0, energy: 0
SPACE TERRAIN:
Orbital Space
+Crowded- (Moon)
Principatus Luna:
Provincae Primus Princeps: pop: 4million, ind: 5, wealth: 0, research: 0, energy: 0
Mid System:
Sister World: (Mars)
Principatus Mars
+Open- Provincae Nova Italia: pop 7 million, ind: 0, wealth: 0, research: 0, energy: 0
Out System:
NUMBERS OF TROOPS:
Skilled Infantry: 300,000
Elite Infantry: 30,800 Marines , 6,000 Fabri (Engineers)
Main Battle Tanks: 9,000 Lorica
Infantry Fighting Vehicles: 13,000 Papilio
SP Artillery: 1,800 Ballistae
MRLS: 1200 Martiobarbullus
SP SAM: 1800 Vigiles Flak
SP A.T.: 1800 Pila Anti Tank
Logistics Vehicles: 5,000 Mulus
Anti-Orbital: 1,800 Praefectus Vigilum Anti-Orbital
Anti-Orbital Missile: 1,200 Excubitoria Anti-Orbital
ORDER OF BATTLE-
Equites Singulari Augusti: I Praetorian Army, Provincae Italia
I Praetoria Legio: I Praetorian Army, Provincae Italia
ALA I Galliorum Tremeriana: IV Consular Army Provincae Sarmatia
XXX Ulpia Victrix Legio: IV Consular Army Provincae Germania Maior
ALA I Numidiorum Lepidiana: I Consular Army Provincae Hanii
XII Fulminata Legio: I Consular Army Provincae Nihonii
ALA I Bataviorum Aratiana: II Consular Army Provincae Mexicus
V Macedonica Legio: II Consular Army Provincae Medialantica
XX Valeria Victrix: Legio III Consular Army Provincae Britannia
VII Gemina Legio: III Consular Army Provincae Hispania
II Traiana Fortis Legio: V Consular Army Provincae Aegyptus
I Manipularii Legio: Classis Sol Principatus Luna, Provincae Primus Princeps
I Ala Cohors: Principatus Luna, Provincae Primus Princeps
I Legionarius Cohors: Principatus Luna, Provincae Primus Princeps
II Ala Cohors: Principatus Mars, Provincae Novae Italia
II Legionarius Cohors: Principatus Mars, Provincae Novae Italia
OPERATIONAL COMMANDS-
I Praetoria Army - Provincae Italia
+Equites Singulari Augusti
+I Praetoria Legio
I Consular Army - Provincae Nihonii
+ALA I Numidiorum Lepidiana
+XII Fulminata Legio
II Consular Army - Provincae Medialantica
+ALA I Bataviorum Aratiana
+V Macedonica Legio
III Consular Army - Provincae Britannia
+XX Valeria Victrix
+VII Gemina Legio
IV Consular Army - Provincae Sarmatia
+ALA I Galliorum Tremeriana
+XXX Ulpia Victrix Legio
V Consular Army - Provincae Aegyptus
+II Traiana Fortis Legio
VI Consular Army - Principatus Luna, Provincae Primus Princeps
+I Ala Cohors
+I Legionarius Cohors
VII Consular Army - Principatus Mars, Provincae Novae Italia
+I Ala Cohors
+I Legionarius Cohors
Classis Sol - Principatus Luna, Provincae Primus Princeps
+I Manipularii Legio
THE CLASSIS:
Quinquireme: 4 Fulminatus Class
Quadireme: 5 Nauphlax Class
Trireme: 20 Pausarius Class
Liburnia: 10 Velarii
Classis Aquilia:
Fighters: 250 Falcon Superiority Fighters
Strike Fighters: 250 Peregrine Strike Fighters
Command/AWACS: 4 Penteres Command/SWACS
Manipularii: 30,000 Manipularii (Marines)
OPERATIONAL COMMANDS
-
Classis Sol: (Home Fleet)
++250 Falcon Superiority Fighters
++250 Peregrine Strike Fighter
++4 Penteres Command/SWACS
+4 Fulminatus Quinquiremes (Cruisers)
+10 Nauphlax Quadiremes (Destroyers)
+20 Pausarius Triremes (Frigates)
+10 Velarii Liburnia Scouts Corvettes)
Merchant Marine
10 Naves Codicariae class Freighter (Freighter)
10 Corvus Combat Transport (Troop Transport)
2 Horrea Piperatoria Super Freighter (Super Freighter)
2 Horrea Deuterium Tanker (Super Freighter)
The CURATORES FUMIS
(Imperial Intelligence Agency)
100 Fumum Vendere (Spies)
25,000 Curiosi (Secret Police)
DEPLOYMENT-
20 Fumum Vendere Principatus Europa
10 Fumum Vendere Principatus Africa
10 Fumum Vendere Principatus Asia
5,000 Curiosi Principatus Luna
10 Fumum Vendere Principatus Serica
5,000 Curiosi Principatus Luna
10 Fumum Vendere Principatus Mericus Septentrionalis
5,000 Curiosi Principatus Mericus Septentrionalis
10 Fumum Vendere Principatus Novae Hispania
5,000 Curiosi Principatus Novae Hispania
10 Fumum Vendere Principatus Mericus Australis
5,000 Curiosi Principatus Mericus Australis
10 Fumum Vendere Principatus Luna
10 Fumum Vendere Principatus Mars
IN PRODUCTION:
1 Iuppiter Class Sexireme (Battleship)
1 Aquila Class Carrier
2 Fulminatus Quinquiremes (Cruisers)
5 Nauphlax Quadiremes (Destroyers)
10 Pausarius Class Triremes (Frigates)
150 Aquilia Superiority Fighters